F-Response v8 - Pre-Release Now Available
Jan/17/2019
Get F-Response v8 today!
We are excited to announce that the pre-release of F-Response version 8 is now available to all customers. This latest release is easier to use, faster, and offers a much more flexible user interface with a new GUI and updated scripting technology.
Scripting/GUI
F-Response v8 now uses a simple JSON POST style RPC mechanism. Now local scripting of F-Response is accessible from just about any scripting language that can send and receive HTTP POSTs with JSON data.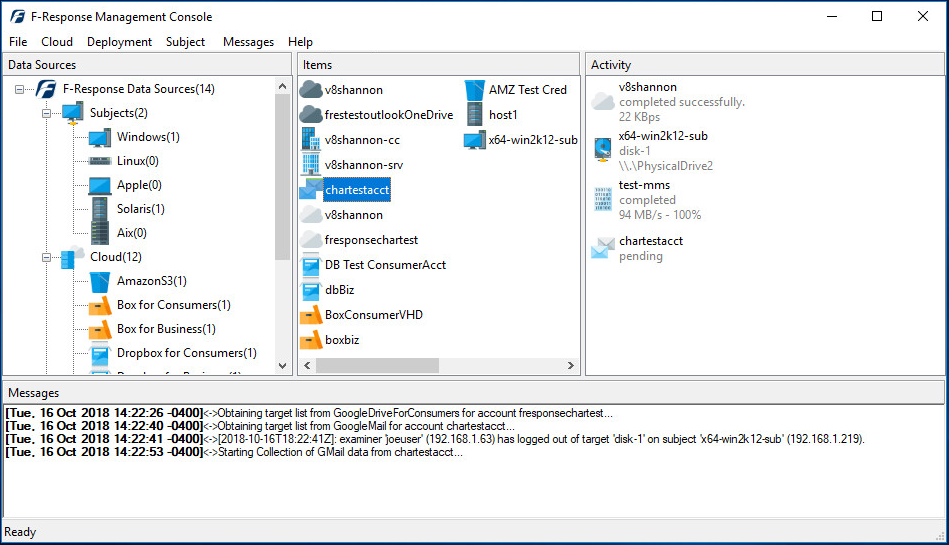 The new GUI console provides a clear left-to-right usage model. Data Sources in the leftmost panel lead to items in the center which you interact with to create activities that appear in the rightmost panel.
You wanted simple and flexible, version 8 delivers.
Cloud Collection
F-Response was the first to market with cloud connection capabilities and we've learned a lot since that time, tuning our approach to this challenging and constantly changing technology. Starting in v8 Cloud collection is all about downloading the content directly, either to a VHD or local share. This new approach has proven to be faster with less potential for provider imposed throttling. We can't eliminate it entirely, but the new F-Response goes a long way in making it less likely to occur.
V8 for Universal?
F-Response Universal customers will be pleased to know we have already begun porting all the user interface improvements and cloud collection features to Universal.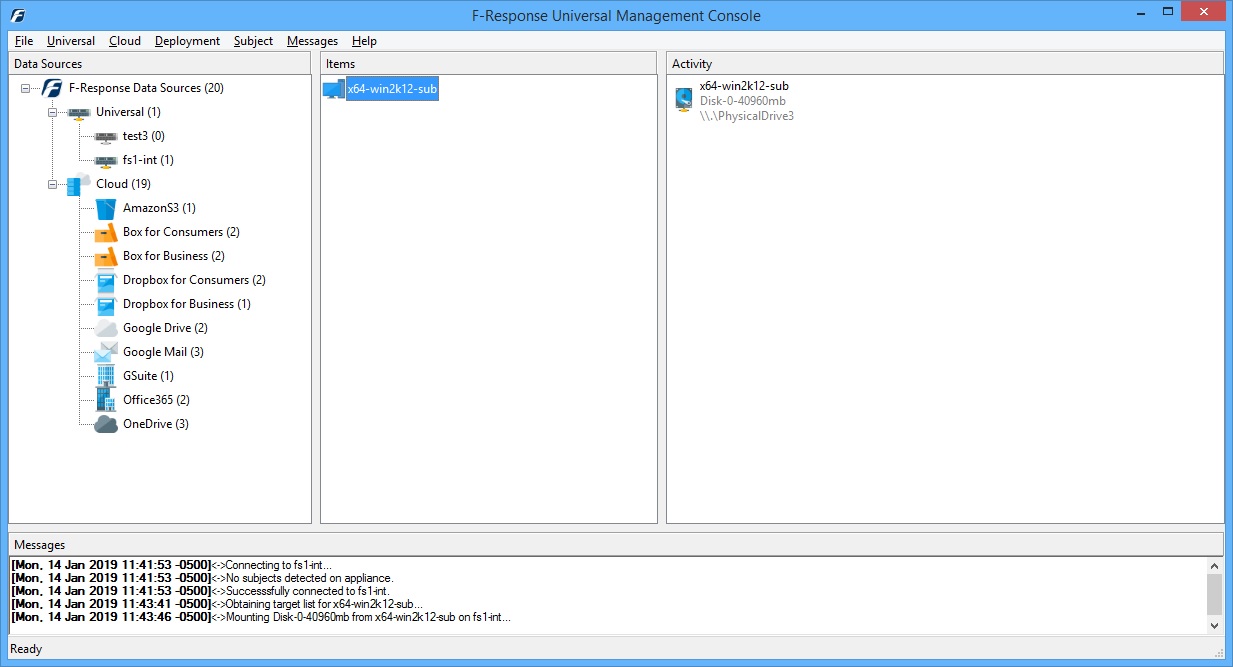 We will announce additional details as we get closer to a new release for F-Response Universal.
Enough excitement—tell me how to get it!
You'll find all the downloads for the pre-release version of F-Response v8 on our website here.
Please remember this is a pre-release version, and while we do not expect issues, your patience and feedback will be valuable as we approach our final release point this quarter.
Thank you for all that you do to support F-Response. We continue to be humbled by our customers and look forward to many more years together.
M Shannon, Managing Principal
F-Response
January 17, 2019
Back...