F-Response Consultant Edition

The Consultant Edition of F-Response is our non-covert (GUI) version of F-Response uniquely designed around the needs of larger and geographically distant consulting or E-Discovery teams needing direct access to a wide array of potential target machines.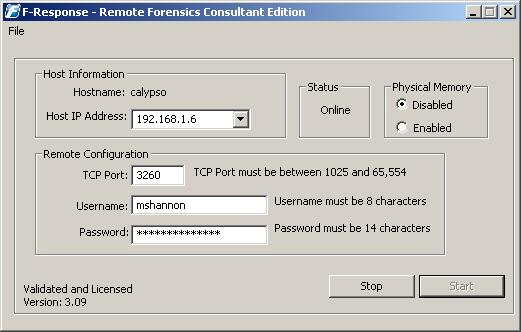 Using F-Response Consultant Edition and the F-Response Consultant Connector(FCC) investigators can connect to a virtually limitless number of remote target machines. F-Response Consultant allows you the examiner to obtain completely vendor neutral, write protected access to remote physical disks, logical volumes, and in some cases physical memory from over ten different remote operating system environments.

F-Response Consultant Edition also includes access to the F-Response Accelerator, a secondary connectivity tool allowing for an unlimited number of remote examiners.
F-Response Benefits
Full Live Read-Only Access, No File Level Locking
F-Response provides direct, live, read-only access to the remote target computer's disks, volumes, and in certain cases physical memory. Since all access is at the physical level there is no file level locking, F-Response gives you access to any and all content on the remote target, including protected system content (Registry files, Email PSTs, Database Files, etc).
F-Response Executable and Software
The F-Response Consultant functions as a single executable ("exe") on the remote target computer that requires no drivers or installation components, as well as no reboot when deployed and started. In addition, the F-Response Consultant Connector was designed to use minimal resources and is highly portable, requiring only the minimum resources necessary to run Windows XP. F-Response Consultant is 100% Windows 7 validated and carries the Microsoft Windows 7 Validation logo.
F-Response Flexdisk™ Support
The F-Response Flexdisk™ (Patented) is a web based disk access and representation tool. The Flexdisk™ uses standard web technologies (HTTPS/REST ) to provide direct access to the remote target machines Logical and Physical targets in both raw and logical format. The Flexdisk™ can be accessed and used from any modern web browser and also exposes a feature rich and extensible application programming interface (API) accessible from any system capable of making and interpreting web queries and JSON .
F-Response Targets and Platform Support
F-Response works with all RAID disks, physical drives, logical volumes, and physical memory (32 & 64 bit Windows). In addition, F-Response Consultant includes target executables for over ten (10+) operating system environments, including exotic hardware such as IBM AIX and HPUX. Furthermore based on its unique vendor neutral patented design, F-Response works with all Computer Forensics, eDiscovery and Data Recovery software packages, simply put, if your package reads from a hard drive, it will work with F-Response.
F-Response Licensing and Usage
F-Response Consultant includes unlimited installations, connections, and examiners for a period of one or three year(s) from the date of purchase. Software will cease to function at the end of the license duration unless renewed. In addition, F-Response Consultant Edition includes a license for F-Response Field Kit Edition, and the F-Response Accelerator, allowing true many-to-many connectivity from any examiner platform.
F-Response Scripting and Programming
F-Response Consultant Edition includes access to a fully scriptable COM Object capable of automating many of the F-Response Enterprise Management Console tasks from any programming environment that supports COM.
F-Response Minimum Hardware Requirements (Examiner Computer)
Pentium 233-megahertz (MHz) processor or faster (300 MHz is recommended), At least 64 megabytes (MB) of RAM (128 MB is recommended), At least 8 megabytes (MB) of Disk Space.
F-Response Supports
F-Response Consultant supports the largest array of remote target platforms including the following:
- Windows Includes Windows 2000, XP, 2003, Vista, 2008, 7, 8, 10, 2012, 32 and 64bit, Physical memory only supported on 32bit and 64bit Windows
- Apple OSX Includes OSX 10.3 to 10.11 Universal Binary (Field Kit only supports Intel Apple OSX)
- Linux includes most Linux distributions build on Glibc 2.3.5 and higher, Android on ARM, and Embedded Linux (Netgear ReadyNAS)
- Solaris includes Solaris 8, 9, & 10 on SPARC and OpenSolaris on Intel
- IBM AIX includes AIX 5.1, 5.2, 5.3, 6.1 on the Power processor
- HPUX includes HP_UX11iv2,11iv3 on the Itanium processor
- FreeBSD includes FreeBSD 7 on the Intel/i386 processor
- SCO includes SCO OpenServer 6 and Unixware 7 on the Intel/i386 processor
Arrange a Demonstration/Trial
Interested in trying F-Response Consultant risk free in your environment? Use this link to contact Sales and arrange a brief GoToMeeting demonstration, after which we can give you direct access to our virtual dongle so you can begin testing F-Response Consultant in your environment immediately.
Purchasing F-Response
To Purchase F-Response Consultant Edition online via credit card go to Purchase F-Response Software. However, we do accept purchase orders following a completed credit application, for more information or to request a quote and credit application contact F-Response Sales and Support. If you would prefer to use a local reseller you are welcome to review our list of resellers by country here.
IMPORTANT NOTE: Always remember, all renewal prices are available here on our website, and all licenses of F-Response automatically include maintenance, support, online training, enhancements, implementation assistance, and new releases throughout the term of your license.
F-Response Consultant Edition Video
If you do not see the video, please enable mixed content in your browser.