F-Response Universal v8
Sep/25/2019
After the success of over ten years of F-Response we are very excited to bring F-Response Universal v8 to the market in its final form.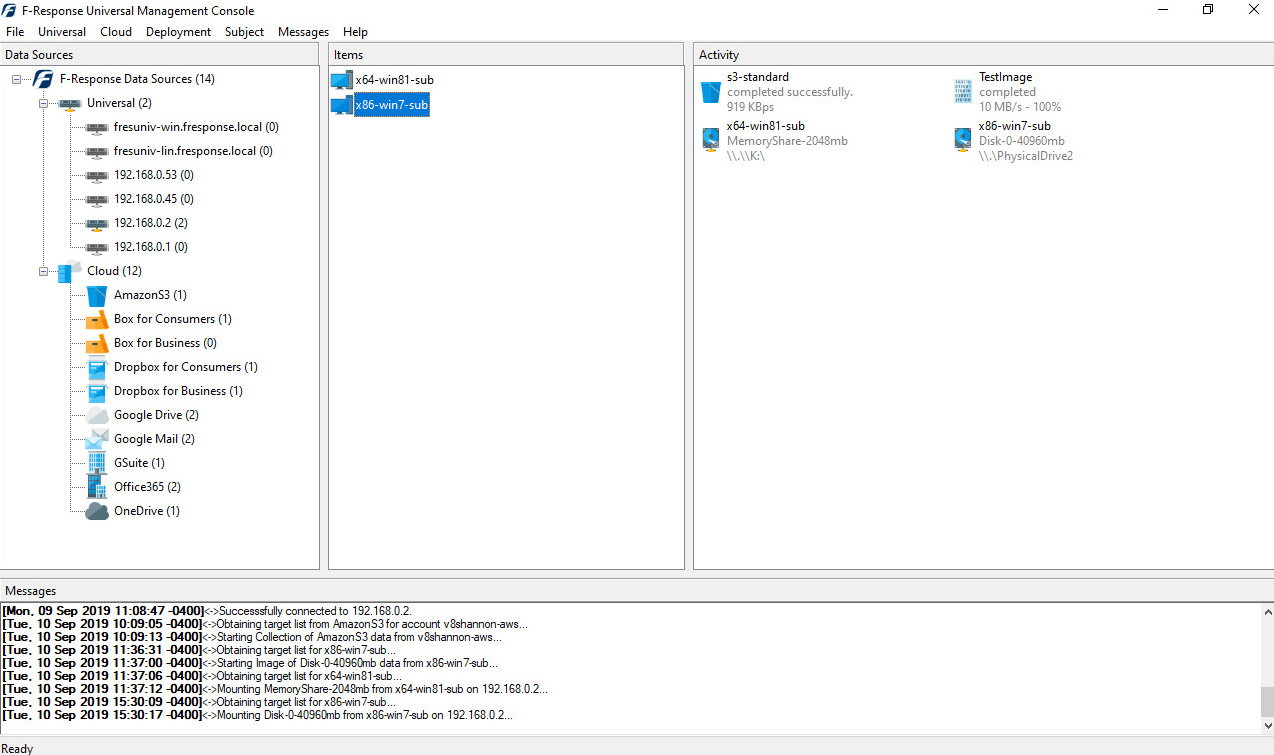 F-Response Universal User Interface
This latest version of F-Response Universal is an exciting next step in the evolution of the world's first vendor neutral live forensics platform.
It's easier to use, faster, and offers a much more flexible user interface, both for point and click access, and for scripting.
What's changed?
A lot.
Gone are the Microsoft Component Object Model (COM) objects for scripting, in their place we've implemented the same simple JSON POST style RPC mechanism other versions of F-Response enjoy. This means local scripting of Universal is now accessible from just about any scripting language that can send and receive HTTP POSTs with JSON data. Check out the new API document here.
You'll also find the user interface for the management console provides a clear left-to-right usage model. Data Sources in the leftmost panel lead to items in the center which you interact with to create activities that appear in the rightmost panel.
What about Cloud Collection?
The single biggest change in Universal v8 from all previous versions is the inclusion of cloud collection capabilities. Starting in Universal v8 Cloud Collection is all about downloading the content directly, either to VHD or local share. This results in a faster collection with less potential for provider based throttling. We can't eliminate it entirely, but the new Universal goes a long way in making it less likely to occur.
What about existing customers?
F-Response Universal customers will be pleased to know we plan to allow them to transition to new Universal servers over time. Since this new version of Universal can be installed on either Windows or Redhat/Centos Linux, this gives existing customers a way to gradually integrate the product into their environment without impacting their existing architecture. Please contact us directly when you are ready to schedule your migration to Universal v8.
What about new customers?
F-Response Universal is now available to evaluate and for demonstrations. If you placed a request to be notified we should begin contacting you as early as next week. Thank you for your patience as we clear through the list of interested individuals.
Thank you for all that you do to support F-Response. We continue to be humbled by our customers and look forward to many more years together.
Warmest Regards,
M. Shannon, Principal
F-Response.com
Back...