F-Response Now - Cloud Services
What is F-Response Now?
F-Response Now is a unique cloud service provided by F-Response leveraging patent pending technology ("F-Switch") to provide access to remote systems virtually anywhere in the world. F-Response Now provides near instant access to Windows, Linux, and Apple OSX devices virtually regardless of the location provided they have Internet access.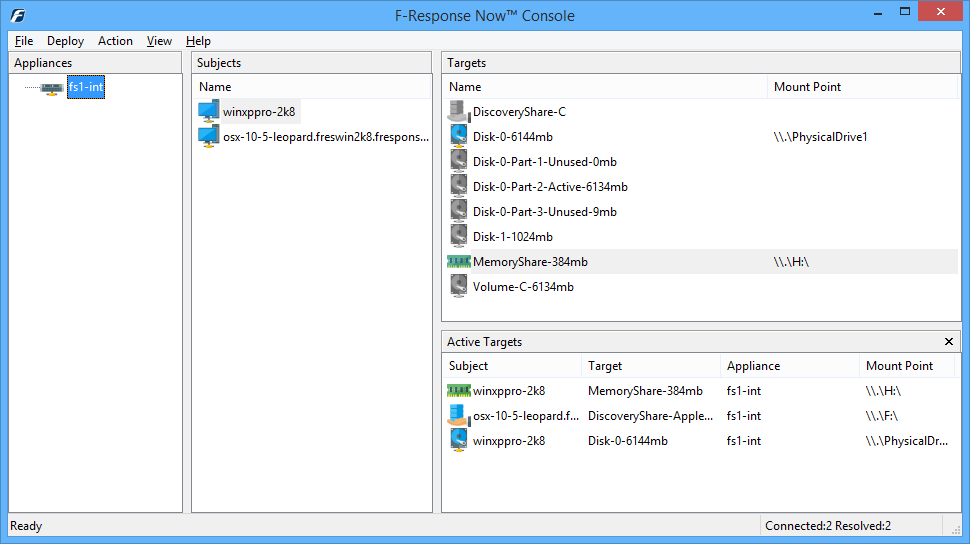 F-Response Universal/Now User Interface
How does F-Response Now work?
F-Response Now uses a patent pending remote connectivity technology that enables an authenticated, read-only connection to be created between the examiner's computer and the computer(s) under inspection, over any network, including the Internet. F-Response Now readily traverses most firewalls, NAT/PAT routers, and other complex networking technologies making it remarkably fast and easy to connect to remote systems anywhere in the world.
F-Response Now is sold in on demand instances based in the geographic region of your choosing. F-Response Now instances are designed for rapid provisioning and can be fully operational within 10 minutes of purchase 24 hours a day, 7 days a week.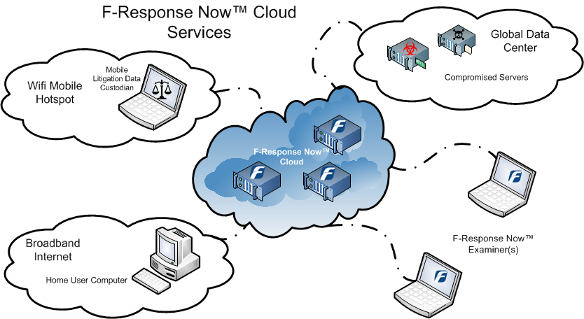 When would I use F-Response Now?
F-Response now provides connectivity to remote systems virtually anywhere in the world. However, the available network performance (bandwidth and latency) varies considerably within a given country, let alone the entire world. Therefore, while it's entirely possible to use F-Response Now to perform a full disk image we don't recommend it for that task. We recommend F-Response Now to solve the problem of remote system access for logical file acquisition, targeted searches, and system triage.
What if it doesn't work?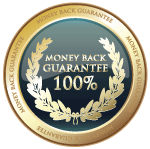 F-Response Now 100% Money Back Guarantee (First 72 hours)
In order to obtain a refund on your Now instance any issue with F-Response Now must be identified and submitted to F-Response Support(support@f-response.com) within the first 72 hours of obtaining your Now instance. Upon receipt, Support will begin reviewing your Now instance and issue. You must be willing to work with Support should they request additional information, ask for logs, provide connectivity testing tools, etc. If Support determines the purchased Now instance was able to successfully enable connectivity to none of your remote client subject devices and target pairs based on technical issues including but not limited to firewalls, proxy software, and software errors, your Now instance will be terminated and you will receive a full refund of the purchased price.
Who would use F-Response Now?
For E-Discovery Professionals
F-Response Now was designed to give litigation teams extended geographic and technical reach to access unlimited live remote machines data in a completely write protected manner.
Once connected, the files and folders on remote devices are presented via a DiscoveryShare(TM), giving litigation teams the ability to review data by simply using the Windows file browser for quick review, or their litigation tools for more extensive research.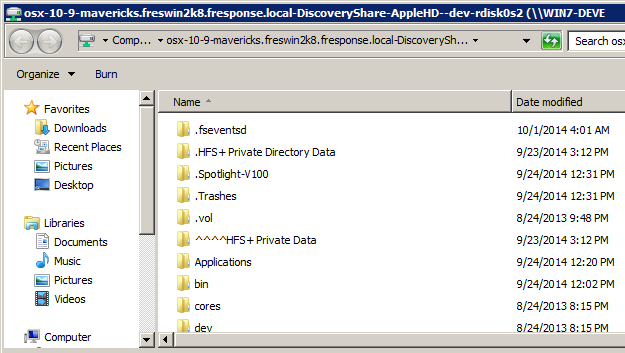 F-Response Now DiscoveryShare showing Apple OSX Files and Folders
For Forensic Investigators
F-Response Now includes access to remote physical disks, volumes, partitions, and RAID devices, allowing a Forensic examiner to leverage existing tools, techniques, and methodologies to perform investigations with pinpoint accuracy and precision.
For Incident Handlers/Responders
F-Response Now presents remote Windows computer physical memory via the MemoryShare(TM) as a live image file, giving the handler the ability to simply collect the image file or analyze it using a popular forensics tool such as Volatility. The image file is not a snapshot of the remote physical memory, rather it represents the live physical memory of the remote machine.


F-Response Now attached MemoryShare(TM), providing access to the remote Windows computer's Physical Memory in real time.
F-Response Now In Action
F-Response Now Benefits
DiscoveryShares(TM), Simple, Secure, Flexible Access
DiscoveryShares(TM) allow F-Response Now users to access a remote machine's files and folders completely read-only with no file locking, whether they be Windows, Linux, or Apple OSX. DiscoveryShares(TM) offer a great way for both technical and non-technical users to access a remote machine's files and folders.
Full Deployment Capability
All versions of Now offer the ability to deploy to remote systems via the browser, and via email.
Full Live Read-Only Access, No File Level Locking
F-Response Now provides immediate, live, read-only access to the remote target computer's files. Since all access is at the physical level there is no file level locking, F-Response Now gives you access to any and all content on the remote target, including protected system content (Registry files, Email PSTs, Database Files, etc).
MemoryShares(TM)
F-Response Now provides access to remote physical memory via MemoryShares(TM). MemoryShares(TM) provide live physical memory access to remote Windows subject physical memory as a live file, suitable for imaging and analysis with virtually any incident response product.
Security
All subject data in transit when using F-Response Now is encrypted using AES 256 bit symmetric encryption.
Multi-Platform Support
Multi-platform support is included in F-Response Now, further extending the team's reach into Linux and Apple platforms. Remote Linux and Apple files can be reviewed through the DiscoveryShare(TM) using the Windows Browser. F-Response Now Supports Apple OSX 10.3+ and Linux Distributions 2002+.
Licensing and Usage
F-Response Now is sold on demand and available in datacenters throughout the world in 1-week and 1-month durations. F-Response Now has no licensed limit to the number of concurrent examiners or connections (actual performance may vary based on bandwidth, region networks, client systems, etc).
Globally Available
F-Response Now is available on multiple continents and regions throughout the world, choose a datacenter closest to your intended targets(subjects) to get maximum performance. Current datacenters available (North America, Europe, Oceania).
Buy F-Response Now
F-Response Now is available in 1 week and 1 month durations and can only be purchased directly from F-Response.com. Buy F-Response Now.